Making the decision to get married is a very special time for you as a couple and for your families and friends. There is much to plan and organise which can be challenging and sometimes stressful – you both want the day to be perfect. You have decided to get married in a Catholic Church – the Church too wants you day to be perfect. This is why you will be encouraged to concentrate on what is at the heart of any successful marriage – true love for one another.
In the Sacrament of Marriage, God's love becomes present to the couple in their total union and flows through them to their family and community. By their permanent, faithful and exclusive giving to each other, symbolised in their physical union, the couple reveals God's unconditional love. All seven sacraments bring grace to those that receive them, and is a way of describing how God shares the divine life with us, and gives us the help needed to lead a Christian life. In marriage this brings the particular help needed to be faithful to each other, to the marriage vows, and to undertake the privileges and responsibilities that marriage brings.The Church wants to support and encourage you in this great undertaking and to help prepare you for it.
Information you will need to know prior to getting married in a Catholic Church. 
You will need to give about 12 months notice prior to getting married- this is to ensure that there is enough time to complete the preparations for marriage.
Meetings with the priest who will marry you , who will want to get to know you and to talk about the meaning and importance of marriage.
Attendance at a Marriage Preparation Course. These are run at certain times of the year in the parish.
The Civil and Church paperwork. You will need to advise the registrar in the place where each of you lives that you intend to marry. This needs to be done six months before the date of the wedding.
Baptism. At least one of you must be a baptised Catholic. The priest will need you to have your certificates of Baptism. For Catholics a copy will need to be taken from the register of the church where you were baptised. This needs to be available six months prior to the date of the wedding. If one of you has not been baptised in a Christian Church a dispensation from the Archdiocese will be necessary.
Freedom to Marry: You cannot be married in a Catholic church if either of you you has been married before, unless the marriage has been annulled by an ecclesiastical tribunal. This rule includes marriages that have taken place in register offices or in non-catholic churches. (For a Catholic married in a non-catholic service a declaration of nullity may be possible.)
MARRIAGE PREPARATION
All couples wishing to get married in a catholic church  have to attend a Marriage Preparation Course. This is because of the very serious commitment you will be making to each other, and the importance of it to society as a whole.
At St Gregory's the Marriage Preparation programme has two options for delivery although the content is the same.
Content
The course  mainly uses the Alpha programme, which is based on Christian principles and is recognised by the Catholic Church. It covers such areas as commitment, expressing feelings, listening skills, resolving conflict and goals and values.
Delivery of the course.
As a couple you can choose which option suits you best – the content will be the same.
Option 1 – group delivery. This takes place over two Saturdays in Stratford-upon-Avon, starting at 10.00am and finishing at 5.00pm on the first Saturday and 2.00pm on the second Saturday. There will be other couples attending and a team of people presenting, managing the day and supplying the coffee, tea and lunch.
Option 2- individual delivery. The course takes place over 4/5 evenings with each session lasting approximately two hours. It is best run over4/5 weeks. Timing and dates will be arranged between yourselves and the course leaders.
Next Course: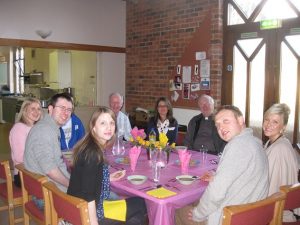 Next steps
After you have agreed a date for your wedding with the Parish Priest Father Alex, please contact the course co-ordinators:
Peter & Jane Donaghue –  pjdonaghue@btinternet.com
Home: 01789 298525
Mobile: 07774210939
To discuss your marriage and make all the necessary arrangements please contact the Parish Priest or the parish office by email stgregorysua@btconnect.com or telephone 01789 292439