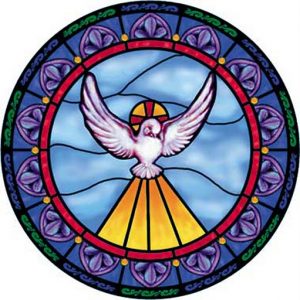 Confirmation is a Catholic Sacrament of mature Christian commitment and a deepening of baptismal gifts. It is one of the three Sacraments of Initiation for Catholics. It is most often associated with the gifts of the Holy Spirit.
The Sacrament of Confirmation confers special graces of the Holy Spirit upon the person being confirmed, just as such graces were granted to the Apostles on Pentecost. Like Baptism, therefore, it can only be performed once, and Confirmation increases and deepens all of the graces granted at Baptism.
The Catechism of the Catholic Church lists five effects of Confirmation:
it roots us more deeply in the divine filiation [as sons of God] which makes us cry, "Abba! Father!";
it unites us more firmly to Christ;
it increases the gifts of the Holy Spirit in us;
it renders our bond with the Church more perfect;
it gives us a special strength of the Holy Spirit to spread and defend the faith by word and action as true witnesses of Christ, to confess the name of Christ boldly, and never to be ashamed of the Cross.
Parish Programme
The parish programme is run bi-annually for candidates at Year 10 level or older. Anyone interested should complete an application form and return to the parish office together with a letter addressed to the parish priest on why he/she wants to be confirmed.
It is expected that candidates, their families and sponsors attend the Youlbury weekend camp. There will also be a Day of Recollection prior to Confirmation.
The sessions are run in relaxed style, inter-active, lively and enjoyable. Together the candidates explore the deeper meaning of what it is to be a Christian in today's world, discover the richness and treasures of the Church and most importantly, develop a closer and more personal relationship with God.
As with other sacraments, faithful weekend Mass attendance is an integral and important part of this preparation.
For more information please contact the parish office by email stgregorysua@btconnect.com or telephone 01789 292439.